THE BEST N64 DEMO EVER!
I've said it before, but it can't be said often enough. Team Split's Nachos demo is the coolest thing I've ever seen. I was checking out some old demos today and ofcourse also Nacho, which I hadn't seen since around its release, but it still impress me a lot!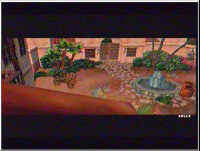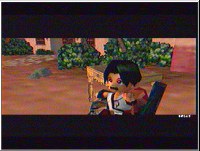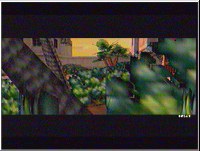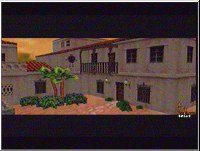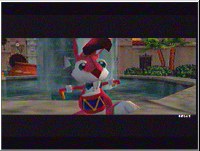 Download Nacho here! (NTSC)
Download Nacho here! (PAL FIXED)
Download Split's Summer64 demo here! (also feat. the red bunny)
OLD NEWS
Was just looking around, and found this...
http://www.mips.dk/coolApps/s3p4.html
It has some funny bits like
The engineers on the project consumed an average of three dozen bagels every Friday. During the life of the project, that adds up to nearly 5,000 bagels (and a lot of cream cheese).
When running Super Mario 64, Nintendo64 is computing approximately 80,000,000 adds/subtracts/multiplies per second.
If the Webster's Dictionary was on a Nintendo64 cartridge, the Nintendo64 could read the entire dictionary in a 1/4 of a second.
NEW TRAINER BY SWEED OF HIGH SOCEITY

MEGA MAN 64 +3 INCL. PAL/NTSC SELECTOR
USA
[ DOWNLOAD ]
Infinite Health

Infinite Zenny

Time 00:00



NEW 100% PALFIX FROM D_TRON
| | | |
| --- | --- | --- |
| GANBARE! NIPPON OLYMPIC 2000 | JPN | [ DOWNLOAD ] |
THE N64 RELEASE LIST GETS A NEW GAME ADDED
According to IGN, who always knows what they're talking about, we can expect another game in April. It's a classic which i believe first appeared on the Gameboy, then the NES, then the SNES and now it'll be out on the N64 aswell, I'm talking about Dr. Mario 64.

Wether it'll get a European release or not is unknown, one can only hope so as this is a great game. The only new addition to this version of Dr. Mario is said to be a 4 player option.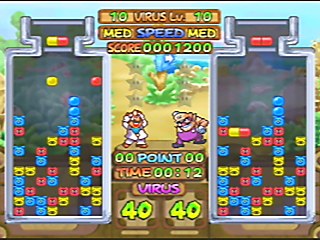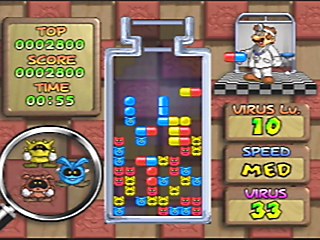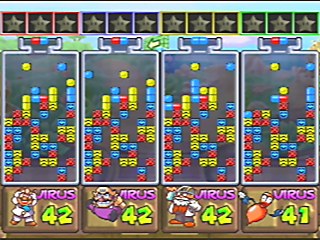 NEW TRAINER FROM SWEED OF HIGH SOCEITY

WWF NO MERCY +4
USA
[ DOWNLOAD ]
All Charcters/Costumes/Moves Unlocked

Real American (Hulk Hogan) In Match Music

1p Max Spirit

2 Player Championship Mode (Tag Partner)



AND I GIVE THE WORD TO CONKER...
DEXDRIVE PAGE UPDATE
It's been pretty slow the past days, and I've been damn lazy (lots of sleep!), heh. Well to continue the almost daily updates here's an update of the DexDrive page with some saves from the official GameShark/DexDrive page as well as a few saves of my own.

I've added some tools to the DexDrive page which will allow you to use the saves with the Z64, V64jr as well as the V64. I hope that this will make the page more interesting and indeed useful for non-DexDrive owners. In case you want a DexDrive, www.ebworld.com has them now for $4.99, so why not get one while they're still in stock? (The tools can also be found by clicking here).

Saves for the following games have been added:
DOWNLOADING PROBLEMS
I'm getting quite a lot of reports from people who can't download files from 64scener, which may be caused by an "antileech" script my host uses. I have told them about the problem and they'll look into it. So until it's solved I apologize if you can't download anything. Please do let me know if you can't, the more response I get the more I can beat them to fixing it :)

LATEST SCENE RELEASES

| | | | | | |
| --- | --- | --- | --- | --- | --- |
| 01-15-2001 | Excitebike 64 | Nintendo | JAP | loda-e~1.zip | 128mbit |
| 01-15-2001 | Ganbare Nippon Olympic 2K | Konami | JAP | loda-t~1.zip | 96mbit |
| 01-15-2001 | Super Bowling 64 | UFO Int. | USA | hs-sb64u.zip | 128mbit |
| 01-15-2001 | Pokemon Puzzle League | Nintendo | PAL | mnc-pplp.zip | 256mbit |
NEW PALFIXES FROM SLAVE

NEW PALFIX
| | | |
| --- | --- | --- |
| DISNEY'S DANCE DANCE REVOLUTION... | JPN | [ DOWNLOAD ] |
LATEST SCENE RELEASES
| | | | | | |
| --- | --- | --- | --- | --- | --- |
| 01-14-2001 | Disney's Dance Dance Rev... | Konami | JAP | loda-ddr.zip | 256mbit |
NEW PALFIXES

Thanks to Slave and Indio. Click here for more PAL and NTSC video fixes.
NEW TRAINERS FROM HIGH SOCEITY

BATMAN BEYOND: RETURN OF THE JOKER +3
USA
[ DOWNLOAD ]
Infinite Health

Infinite Lives

Infinite Batarangs



POKEMON PUZZLE LEAGUE +2
USA
[ DOWNLOAD ]
Infinite Retries (Puzzle University Only)

Max Score



READY 2 RUMBLE ROUND 2 +5
USA
[ DOWNLOAD ]
1 Round To Finish Arcade Mode

Full Rumble Metre P1

Infinite Money (Championship Mode)

Infinite Time

Max Endurance (Championship Mode)



LATEST SCENE RELEASES
| | | | | | |
| --- | --- | --- | --- | --- | --- |
| 01-12-2001 | Megaman 64 | Capcom | USA | hs-mm64u.zip | 256mbit |
UTIL/TOOL UPDATES FROM RAO
NEW UTILS FROM WT_RIKER

LATEST SCENE RELEASES

| | | | | | |
| --- | --- | --- | --- | --- | --- |
| 01-09-2001 | WFF Wrestlemania 2 | THQ | Japan | hs-wwf2k.zip | 256mbit |
HOW TO RUN MICKEY'S SPEEDWAY USA (PAL) WITHOUT A CRACK
I was messing around with some game adaptors, namely the Passport 3 (EMS)and the Universal Game Adaptor V4 (Blaze). By accident (yes really) I loaded a copy of Mickey's Speedway onto my V64jr and attached it to the two types of adaptors, not both at the same time, as well as the N64 (duh).

Just as it happened with the US version of the game, it crashed within a few minutes using the Passport 3 adaptor, but didn't crash at all with the Universal Game Adaptor in the 2+ hours it ran. I ofcourse had a cartridge with 4k eeprom (Chameleon Twist) attached to the V64jr and Battletanx GA in the Universal Game Adaptor V4.

So there you have a way to play the game without a crack, and who know if you get this adaptor it might be useful later on aswell? :)

You can buy the adaptor from Game Choice Club in Hong Kong, also check out our review of the adaptor here.

NEW PALFIXES BY SLAVE





EVEN ANOTHER NEW SECTION
This one is given the name "Bargain bin" and is small reviews of old, and probably forgotten, Nintendo64 games, games that didn't get the status as a classic. First one I've checked out is Aero Fighters Assault. I'll try to have a new small review of and old game every week from now on :)

These are the game you usually find in a bin at the local Nintendo retailer with a price tag with huge discount on it. But these games are not nessearily bad, they're just not classics which people remember and want to own.

DIDDY KONG RACING BETA
No it's not a beta which has been leaked, but click here to see what it's about.

DEXTROSE RELEASE CHARTS
Remember these old issues? I've added most of them to the "now updated to new design as well as fixed" misc page. If anyone has the missing Dextrose charts then please send them in, thanks.




LATEST SCENE RELEASES
| | | | | | |
| --- | --- | --- | --- | --- | --- |
| 01-04-2001 | Banjo Kaz.. no Dai Bouken 2 | Rareware | Japan | banjo2j.zip | 256mbit |
| 01-03-2001 | Custom Robo V2 | Noise(Marigul) | Japan | cusro2.zip | 128mbit |
ANYTHIHNG CAN BE SOLD ON EBAY
http://cgi.ebay.com/aw-cgi/eBayISAPI.dll?ViewItem&item=1204285784
http://cgi.ebay.com/aw-cgi/eBayISAPI.dll?ViewItem&item=1205740081




Back after a business trip to Sweden and here's what the mailbox had to offer:

NEW PALFIXES


Thanks to D_tRoN, Slave and Indio for these palfixes.
Looking for a videofix for another game, then click here.

No thanks to the z64corner guy for ripping my videofix page, it's nice to see that you like it, but you could've linked directly to my page, or atleast kept my logo at the top of the page, well Nintendo gets pirated and so does 64scener, hehe.

NEW TOOLS BY WT_RIKER

MACET - N64 CRC CALCULATION UTILITY
[ DOWNLOAD ] [ NFO ]
All major CIC and bootcodes are supported, except for Starfox / Lylat Wars. This will be fixed in a future update.


MOTETII - N64 HEADER & BOOTCODE UTILITY
[ DOWNLOAD ] [ NFO ]
The main reason for motetII's release is there was a small bug in the original release, which caused problems with CRC calculation


I've noticed that there's been a lot of coversations going on about how useful, or not, these tool are for the "normal" N64 backup owner. As one guy on IRC told me a few days after Motet was released the first time, "wow now I'll be able to crack Banjo Tooie myself by changing the bootcode!", without any luck though I tried to explain to him that it wasn't/isn't that simple to crack a game, why?, because the game usually does checks for the "normal" CIC, so if you change it to another without removing the checks aswell, then you have a completely, and just as useless as before, rom image.

But in my oppinion these tools do deserve a public release as someone out there may/will find them useful and will be able to use them the right way, but wasn't a member of the self-so-called "scene 3l33t" and wasn't able to obtain these tools before.

Motet could be used for changing the bootcode in LaC's bootemu, something I used to do earlier manually, and for those who doesn't know how to do that, then it's very help/useful.

As for the claim of these programs being dupes of others, well I highly doubt that any of the authors of the programs ripped each others code and just because one program comes first doesn't mean that there isn't room for another. Also it's said that the other tool in this case, rn64crc, has problems fixing the CRC of some games. I cannot confirm this myself though as I haven't had any need for any of the tools sofar.

I'm not here to tell you which of the two tools is the best or which that is a dupe of which (eventhough I don't believe any of the two is a dupe of any other tool), it's all up to you to decide which one you perfer to use, and then use it and support its author with bug reports etc.

Click here if you wanna read more.

FEEDBACK
I've received very positive feedback about the new section with cancelled N64 games, thanks. Some, hello Xantos and Sanchez (heh), seem to think that a Final Fantasy game was planned for the N64, but remember back when Square left Nintendo's SNES and said that they'd never return on any Nintendo console, well as far as I know they didn't, and those pictures were just renders of something which could've been used in a N64 final fantasy game, but nothing was ever even on the idea stage, my guess is that it was nothing more than a teaser by Square :)

If any of you disagree though then please feel free to mail me.

I have corrected the unreleased games list a bit as the Dance Dance Revolution: Disney's World Dancing is said to have been released a few weeks ago. I'd again like to state that the release list is games that never was released for the N64, but planned, they may have been released on other platforms, but that doesn't count here. Other games released which were on the canned list, Kirby 64 (Kirby: the crystal shards) and Mysterious Dungeon: Shiren the Wanderer 2. It's also said that Winnie the Pooh turned into Tigger's Honey Hunt, but I haven't been able to confirm this elsewhere.

Anyway you can look forward to even another new section one of the next days, it'll be called something as lame as "specials" and the first "special" has something to do with Nintendo64 disks... :)

ANOTHER NEW SECTION ADDED
Game flyers handed out at shows such as ECTS and E3, or even the Tokyo Game Show. I hope to get as many as possible N64 game flyers on this page, feel free to contribute if you can. Click here to check out the page.
LOTS OF NEW TRAINERS!
What can I say but Sweed rocks! ;)
BIG MOUNTAIN 2000 +2
USA
[ DOWNLOAD ]
Infinite Stamina

Unlimited Time/Always Place 1st



CRUIS'N EXOTICA +3
USA
[ DOWNLOAD ]
Always Place 1st

Stop Timer

Unlock Exotic mode Cheats



MIDWAYS GREATEST ARCADE HITS +1
USA
[ DOWNLOAD ]
Infinite Lives - Defender



POLARIS SNOCROSS +4 *FIXED*
USA
[ DOWNLOAD ]
It appears the original trainer caused the game to crash quite quite frequently, so here is the fixed version patch over the original rom supplied by menace mnc-psno.rom in v64 format

All Tracks Unlocked

All Sleds Unlocked

All Divisions Complete

Continue Tournament *

* Continue Tournament With All Tracks / Divisions Unlocked allows you to select the CONTINUE TOURNAMENT option with all divisions complete



STAR WARS: BATTLE FOR NABOO +5
USA
[ DOWNLOAD ]
Infinite Lives

All Levels, Ships and 2x Missles *

Homing Missles

Advanced Shields

Programmmer Commentary

* only allows you to use ground ships on ground levels and same with flying levels, so you cant be naboo bomber on 1st level also: homing missles only work on certain ships



TIGGER'S HONEY HUNT +1
USA
[ DOWNLOAD ]
All Honey Pots Collected



TOM & JERRY: FISTS OF FURRY +5
USA
[ DOWNLOAD ]
Unlock All Characters

Infinite Time

Infinite Energy P1

Low Energy P2

Teamplay Mode

NEW SECTION ADDED
I've had this one in the works some some time, atleast 4 months, and I finally got around to writing someting decent for it. It's a page about the unreleased/cancelled N64 games, damn ign64 beat me I should've added it earlier, ah well. Anyway the list of unreleased N64 games is up, feel free to make any comments about it or if you have any additions as it may be incorrect or incomplete. The first unreleased N64 game I've had a closer look at (and played heh) is Robotech: Crystal Dreams, hope you like the info page as I spent a lot of time on it aswell as digging up info.

This was actually meant to go online, but I was too lazy to upload the 10megs of stuff for the Robotech page with my 56k modem. But it's there now, so have fun :)

DONALD DUCK GOIN' QUACKERS (USA) GAMESHARK CODES
A little news from gameshark.com, they managed for come up with a couple of codes for Donald Duck, and here they are.
Press Z to go Quackers / Restore Health
Code Generator MUST be ON for the game to load.
d00cb2a00020
8019ad160002
Press Z For More Time.
Code Generator MUST be ON for the game to load.
d00cb2a00020
801a39a700ff
For those of you who are in doubt, yes you need either a gameshark, action replay adaptor, Xplorer or a CD64 to use these codes :)
If you're looking for some more codes then check:
The Game Software Code Creators Club.
GameShark Website.
NEW TRAINERS FROM HIGH SOCEITY
Sweed from High Soceity was kind enough to send me the two new trainers:
POLARIS SNOCROSS +4
USA
[ DOWNLOAD ]
All Tracks Unlocked

All Sleds Unlocked

All Divisions Complete

Continue Tournament *

* Continue Tournament With All Tracks / Divisions Unlocked allows you to select the CONTINUE TOURNAMENT option with all divisions complete


SAN FRANCISCO RUSH 2049 +4
USA
[ DOWNLOAD ]
Start on last lap

Lots of stunt points

Max score on stunts

Always Place 1st

POLARIS SNOCROSS (USA) PALFIX BY D_TRON

HAPPY NEW YEAR!
Yeah the site is finally back online, and we start off the new year with a new host, why we had to move is explained below. I'd just like to wish you all a happy new year and I'll try to keep the moves to a minimum in 2001, heh.

UNWANTED DOWN PERIOD
Yeah 64scener was down a week due to a couple of immature admins at vg-network.com. I have been running 2 web pages on the vintagegaming network for quite sometime. However back in October when GameFan (and thereby vintagegaming) crashed and the future was insecure I decided to move my other web page to a new host, this page has been running for over 5 years with almost no down time I might add.

Vintagegaming got back online at a new server and managed to restore most of the info from the old GameFan server, and my other site was put on vg-network.com eventhough I kindly asked them not to mess with the site again as I didn't wan't it there anymore. I felt that 64scener belonged on vintagegaming and still wanted it there.

Well Conjurer and his co-admin TuxedoMsk decided that if I didn't want my other site on the vintagegaming server they might aswell show me what they really are made off, and they obviously decided to make updating 64scener a living hell. I reported a few bugs that I wanted fixed, like downloading dexdrive saves, but never got any response from them and the bugs weren't fixed either. On december 23rd Conjurer removed the subdomains for 64scener (64scener.vg-network.com, 64zine.vg-network.com, 64zine.vintagegaming.com) which meant that no one would be able to access the site unless they knew exactly where it was located (www.vg-network.com/64zine) and I therefore deleted the entire site on the 24th, yeah what a cool christmas present *G*

I've been told by Conjurer that he ofcourse has a backup of my site and will do with it whatever he wants. So if you ever discover a weird looking and written in street language (as Conjurer tends to use) then don't be surprised.

[c0njurer] you are an ass
[Acey] ditto
[c0njurer] and always have been
[c0njurer] kthxdie
[c0njurer] now go suck off people for n64 piracy

[c0njurer] and i know i should ahve never even offered to host you
[c0njurer] when no one else wanted your lame sites

[Acey] any WHY are you so pissed about me moving nes world then?
[Acey] care to explain?
[c0njurer] i aint pissed at all
[c0njurer] i just realized you suck
[Acey] then what?
[c0njurer] go ask tux, he can explain better
[Acey] seriously
[Acey] I wanna know the truth then
[c0njurer] ask him then
[Acey] no you
[c0njurer] im leaving
[c0njurer] kthxdie

Well as things turned bad a good friend, WarLord, came forward and accepted to host the site, so thats why 64scener has ended up on armageddongames.com now, which sure isn't bad at all!.

MORE SITE PAGES FIXED AND UPDATED
As you probably have noticed, the menu on the left has changed a bit and a couple of pages have been updated aswell, such as the tool page which now features a new design and is up to date with the tools posted here on 64scener. All the old tools will be added little by little, so please be patient.

NEW PALFIXES


Thanks to D_tRoN for these palfixes.
Looking for a videofix for another game, then click here.

MOTET
What a weird name, erh anyway this is a tool which can be used to change the CIC (bootcode) of a n64 game. Please read the nfo file for more details.

Click here to download.

ZIYAL
Another tool with a weird name. Ziyal is a V64jr game backup tool which is said, by the coder, to be the best V64jr backup tool sofar. I can't say that I don't believe him, but I havent tested it myself, it does sound cool though. Please read the nfo file for more details.

Click here to download.

JRREAD V1.0
A program for dumping N64 cartridges from a V64Jr. The util was also supposed to have support for the PV backup unit (the russian homebrew), but the coder of this util, RaO, seems to have some problems getting a clean dump from the PVBackup unit. Please read the nfo file for more details.

Click here to download.

WJRREAD V1.0
Same program as above, only this is a Windows version. Please read the nfo file for more details.

Click here to download.

WJRWRITE V2.0
A Windows send util for the V64jr, it now also supportd the PVBackup machine. Please read the nfo file for more details.

Click here to download.

N64CICC V1.0
A little tool by RaO which lets you change the CIC and recalculate CRC of a game in one go, instead of having to use more than one tool. Please read the nfo file for more details.

Click here to download.

RN64CRC V2.0
An update of the great tool which lets you recalculate the CRC of a game rom and also extract the CIC (bootcode) of a game. Please read the nfo file for more details.

Click here to download.

LATEST SCENE RELEASES

| | | | | | |
| --- | --- | --- | --- | --- | --- |
| 12-27-2000 | Polaris SnoCross | Vertical Ent. | USA | mnc-psno.zip | 96mbit |
| 12-25-2000 | Pokemon Stadium GS | Nintendo | Japan | z64c-p~1.zip | 512mbit |