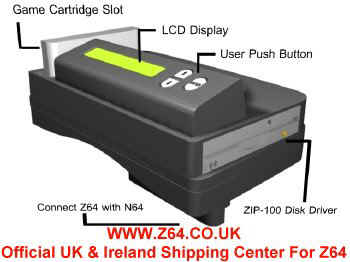 The MR. Backup Z64 is a unique enhancement to the Nintendo N-64™ system which brings a lot of fun to thousands of families all over the world. It connects directly to the N-64™ via the cartridge slot and allows the user to play games as normal from the ZIP diskette. With the connection between Nintendo N-64™ system and Mr. Backup Z64, you can enjoy the fun of cartridge games and also assure the future data usage (including game data and record). It is also a good practice to backup the game data before playing a new game cartridge newly purchased.


Support for Action Replay Cheat Codes with the inbuilt Cheat Function

To backup a cartridge, just plug it into the Z64 and select backup from the LCD display on the Z64. This then backs up the entire cart to an industry standard zip disk in the side of the Z64. Each zip disk can hold between 6 -12 titles on it and playing a backed up game couldn't be easier. Just put any cart into the Z64, make sure that the correct zip disk is in the zip drive and select restore from the LCD, once it is loaded into memory switch on your Nintendo to play the game.

The Z64 also allows the user to backup save games onto a zip disk, where on cart SRAM is required.


Store up to 12 games
on each Zip Disk.

Features:
Independently operating without connecting to computers or any peripherals
Simple installation, plug and play with only a few buttons
Capable of automatically detecting a defective game cartridge
Capable of backing up game cartridge data into Zip Disk
Capable of playing games from the cartridge
Capable of playing game files stored on the Zip Disk
Capable of storing the game record (Eeprom + Sram)
Capable of clearing data files stored in the diskette
With built-in 256Mbit memory ( 32MB DRAM)
With built-in ZIP-100 disk drive
Store average 6-12 files in one ZIP-100 diskette
Average 16-64 seconds to backup each cartridge depending on game size
Function could upgrade for future version
Flash BIOS for convenient upgrade from Zip Disk
So what do you Get for your money ???
The Z64 unit itself including an internal ATAPI-Zip-Drive
An external Powersupply (Input 100-240V~/0.2A, 47-63HZ | Output +5V, 1.6A) With UK adapter.
A short Z64 User Guide V2.0 in English & Chinese language
1 blank ZIP-Disk
A colourful Box with Chinese language on it
"But isn't this type of device illegal?" we hear you say
Answer: NO. Here is an exact quote from Elspa's Home Page
"The law states that you can own one back-up of any game that you have a license for. If
you didn't buy a legal copy of the software in the first place, or you make more than one
copy, you are breaking the law by infringing the copyright of the owner of the intellectual
property."
So there you go. The device is not illegal but they are aware of its possability to be used illegally. At the end of the day it is down to you how you use it but we do not condone the misuse of such a device, nor would i encourage the illegal use of such a device.


Disclaimer
Please note: downloading N64 Roms from the internet and using them if you do not own the original cartridge is illegal. On the same note renting carts and copying them to avoid buying the original is also illegal. Interesting Devices will not be held responsable for any actions taken for demonstration, use, misuse, non-use, possession, resale, importation, exportation, shipping, and /or transfer of the Z64 unit.

Member of the Internet Link Exchange

Copyright © 2001 Interesting Devices
support@z64.co.uk
Last Updated
19 Nov 2000