Screen Shot User Manual Warranty Mail Order Back
A BEST ROM Emulator & Back-up Device for SNES !!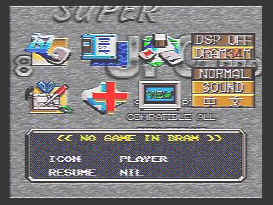 Features :
Backup your Game Cartridge and store in 3.5" floppy disk in PC's DOS format. You can edit the game's files data on your PC.
Restore you Game to the UFO super drive, so that you can play the game on UFO super drive together with your SNES console.( If you are a programer, you also can write your own game and run on UFO dirve together with SNES ) No cartridge require.
Disk utility - Allow to format disk in 1.6MB (2HD), 1.4MB (2HD), 800KB (2DD) & 720KB (3DD), Delete files, Rename files, Copy files & Directory list.
Cheat-code function - allows you to use cheat-code during the game ( cheat-code are compatible with X-terminator code , Datel Action replay code and Gold Finger code ), build-in more than 1000 cheat-code and will load automatically when certain game loaded.
Real-time Save function - allow you to made the game save in real time wherever the game have game save feature or not.( you can store your real-time saved data into diskette)
Slow motion function - enable you to have 2 speed of slow motion in the game.
SRAM Save transfer function - enable you to transfer the SRAM save between the cartridge , UFO & floppy disk.
System Test - Enable you to test the UFO's Dram , SRAM, System ROM and SNES's console self test, Cartridge test, Joypad test & Music test.
Graphic Viewer - allow you to save the game's screen graphic and view it later on., It is good to show the ending of the games to your friend.
User friendly - Online help menu ( R button ) at any menu screen.
Bilingage Language - English & Chinese on screen menu.
Build-in 3.5" Floppy disk drive & 32MB DRAM
PAL & NTSC console & TV compatible ( work with US SNES , JAPAN SFC & Europe SNES, build-in boot up NTSC IC , no boot cartridge needed for NTSC console. For Pal console , you need to insert one of your Pal Game Cartridge on UFO to boot up the system )
On screen menu with Background Music.
Compatible with different game files format - Super Drive compatible with Game Doctor , Pro-fighter game's file format.
¡@