| | | | | | |
| --- | --- | --- | --- | --- | --- |
| 03-31-2001 | WWF No Mercy V1.1 | THQ | PAL | hs-wwf11.zip | 256mbit |

---
| | | | | | |
| --- | --- | --- | --- | --- | --- |
| 03-31-2001 | Kuru Kuru Kururin | Nintendo | Japan | eur-kuru.zip | 32mbit |
| 03-31-2001 | Rockman EXE | Capcom | Japan | eur-rexe.zip | 64mbit |

Yes! it seems that a GBA scene is finally starting to show, Eurasia being the first real group to release a couple of games. All we need now is a commercial GBA copier and everything would be perfect and ready to rock ;)

An update of Fad's util which detects rom size, terriroty and does some basic header editing. Now also displays the CartID from a ROM file aswell as Ability to rename a file to its header.

You can download it here.
I'm back from a weeks business trip to Sweden, and here's what I have for you.

AGS managed to release an overdump (512mb) of Aidyn Chronicles on 22 March, ags-acfm.zip, but never bothered to fix the mistake, so we had to get The Corp. to clean up the mess by releasing a clean 256mbit dump, although you could split the AGS release in halfs and you'd have a clean rom aswell, but for those of you (and me) who still are on a 56k modem, this TC release of Aidyn was very appreciated. AGS release has been replaced by TC's release on my list, deal with it! :)
| | | | | | |
| --- | --- | --- | --- | --- | --- |
| 03-30-2001 | Tigger's Honey Hunt | Ubi Soft | USA | pdx-thhp.zip | 128mbit |
| 03-27-2001 | Aidyn Chronicles: The First.. | THQ | USA | tc-aidyn.zip | 256mbit |

---
A guy who goes by the name Fad sent me a small GBA windows utility which can detect the image size, territory of a Gameboy Advance ROM. It will let you edit the header of the ROM aswell.

You can download it here.

NEW HOMEBREWN DEMO: LEGEND

Click here to download.
NEW HOMEBREWN DEMO: DIRECT SOUND DEMO

Click here to download.

Not really worth getting for most people as it only works on the real hardware.

NEW HOMEBREWN GAME: AGB CLAY PIDGEON

Click here to download.
NEW HOMEBREWN GAME: PONG UNADVANCED

Click here to download.
LATEST SCENE RELEASES
| | | | | | |
| --- | --- | --- | --- | --- | --- |
| 03-23-2001 | Star Wars - Battle for Naboo | THQ | PAL | nil-nab~1.zip | 256mbit |
| 03-22-2001 | Scooby-Doo Classic Creep.. | THQ | PAL | nil-scoo.zip | 128mbit |

---
3 JAPANESE GBA TV COMMERCIALS

I'm not exactly sure what age group Nintendo (NCL) is aiming for with the GBA, or maybe I do after having seen these videos with 10 year olds, now let granspa here check out that GBA please, please.... PLEASE!! :-/
| | | |
| --- | --- | --- |
| F-Zero: Maximum Velocity | Kuru Kuru Kururin | Mario Advance |

Click on each images to download one of the 3 commercials.
(about 800k each, WMA format)
Source: www.gamereactor.dk

FIRST TWO GBA GAMES DUMPED

Eventhough no commercial GBA copier exist, two games have already been dumped, Mario Advance and F-Zero. Although no "FLASH" cartridge exist for the GBA either, so the only way you can enjoy these yet is by using an emulator.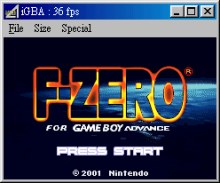 I have listed these games as released eventhough they aren't "official" or even available to the public.
| | | | | | |
| --- | --- | --- | --- | --- | --- |
| 03-23-2001 | Mario Advance | Nintendo | Japan | n/a.zip | 32mbit |
| 03-22-2001 | F-Zero: Maximum Velocity | Nintendo | Japan | n/a.zip | 32mbit |

A nice little demo called Subbies Place, download it here.
LIMITED EDITION GBA RELEASED IN JAPAN

Nintendo secretly released a special version of the Gameboy Advance on the release date, only sold in a couple of stores called Pokemon Center. The limited edition unit has different packaging and has metallic-blue casing. Word is that less than 50,000 of the units were made and they should be fetching high prices in Japan, selling for nearly triple the normal 9800 Yen ($88) retail price.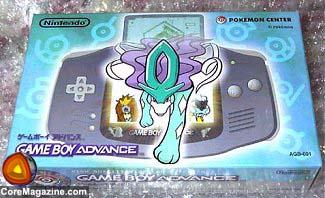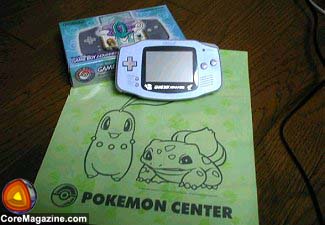 Source: www.coremagazine.com

---
Here it is, along with the launch of the GBA, 64scener opens what hopefully will be one of the best non-commercial GBA sites to exist. It'll be a mix of scene news, we already know that the GBXchanger cartridges (FLASH carts) will work with the Gameboy Advance, but there's still no news about an Advance, although I doubt it'll be long before first signs appear from either Bung, under another name, or maybe the UFO company who is known for the CD64 and GameJack copiers.

To be able to keep the N64 and GBA updates seperated on this page, the GBA news will be presented in a blue box along with the GBA logo, the N64 news will continue to be shown as used to, as long as it last, only very few months to go, but still a lot of nice titles to look forward to.

GBA IN THE DANISH TV2 NEWS

The Danish TV2 channel have had a small so-called "closer" in their news broadcasts today, a 25 seconds news flash from Japan where you see people standing in line, and sleeping outside the stores, wanting to be the first to own the handheld videogame of the future. Totally unexpected that they would show something like this, but they did! :)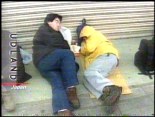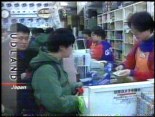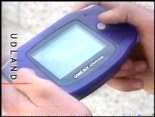 Yeah I ofcourse managed to get it on tape from the 7AM news, their main news broadcast, click here to download. (1.50MB in .ASF format)

EUROPEAN ADVANCE DATE SET!

It's comming! and earlier than expected! The Gameboy Advance is loose in Europe 22. june 2001, only 11 days after the US release. It will be released in 3 different colors, purple, clear blue and white. The Danish Nintendo dealer also states that 8 games will be released along with the system: Super Mario Advance, Kuru Kuru Kururin, F-Zero - Maximum Velocity, Rayman Advance, Tony Hawk´s Pro Skate 2, Ready 2 Rumble - Round 2, GT Championship, Tweety and The Magic Jewels. No word regarding the retail price though.
RARE SPEAKS ON CONKER EURO RELEASE
Written on Rare's own web page, www.rareware.com, recently:
Other recently-breaking news on the Bad Fur Day front is the confirmed distribution of a PAL version across Europe by THQ, following Nintendo of Europe's decision to pass on the opportunity. This should mercifully lay to rest all those nasty rumours of the game being denied a release on its home turf at the eleventh hour, and means that some of those obscure cultural in-jokes might end up being appreciated after all. Best of all, you should be able to get your hands on a brand spanking new PAL BFD as soon as next month...

THQ HAS MORE GOOD NEWS FOR EUROPE
Just as we thought Indiana Jones would be a rental only, and sold for alimited period through blockbuster and Lucas Arts' online store. Well along with StarWars: Battle for Naboo, THQ has picked the rights to release Indiana Jones and the Infernal Machine in Europe. Here's their complete European N64 release list.

Rugrats in Paris - 30 March
Scooby Doo - 30 March
Star Wars: Battle for Naboo - 30 March
Indiana Jones and the Infernal Machine - March
Conker's Bad Fur Day - April
Aidyn Chronicles - May

LATEST SCENE RELEASES

| | | | | | |
| --- | --- | --- | --- | --- | --- |
| 03-05-2001 | Pokemon Stadium 2 | Nintendo | USA | mnc-pok2.zip | 512mbit |
64DD ARTICLE
It's been on my "64scener work" directory for quite some time now and I honestly haven't bothered finishing it, but I've decided to post it now (or never) and let you read what I actually got around to writing. You might see a part 2 sometime, but don't count on it since IGN beat me in the race to release a 64DD special anyway, if there ever was a race.

Click here to read my 64DD Special.

Please remember that it's far from done and sure needs a lot of work.

N64 VHS CASSETTES
I've completed the listing of my N64 videos, which you see here.

LATEST SCENE RELEASES

| | | | | | |
| --- | --- | --- | --- | --- | --- |
| 03-03-2001 | Pokemon Puzzle League (Fre) | Nintendo | PAL | hs-pplfr.zip | 256mbit |
SHUFFLEPUCK 64
What probably is the last homebrewn N64 game. Shufflepuck64 has been under development for quite some time, I think CALi told me about the project 6 - 7 months ago. It was finished in time to be an entry in the y2kode multi system coding competition, as the only N64 stuff. It plays a lot like pong, but if you ever been to a arcade hall you've probably seen one of these neat air hockey tables, this is what this game is supposed to be. It's even got very nice graphics and music. It was said that this was supposed to become a licensed DC game actually and therefore the N64 version wouldn't be released, I guess that project was dropped, and personally I would never pay for a game like this, it's quite nice though but there's not "enough" in it to charge anyone for it.
Click here to download Shufflepuck64
EUROPE GETS CONKER
But not from Nintendo of Europe as they weren't able to translate it into German, so they wouldn't bother, it seems that all they care about it Germany eventhough they should cover all of Europe. Instead Conker's Bad Fur Day will be released by THQ as soon as this April, Nintendo's own release date back when they wanted the game out in Europe was November/December.
I have not been able to obtain the press release from THQ yet, but I'll ofcourse have all details once they're out, this is a game you cannot miss.
IGN CANCEL N64 DINOSAUR PLANET AGAIN
They have done it before and now they do it again. IGN and their incredible sources have once again cancelled a game. According to the most reliable video game source on the internet sources close to Rare have confirmed that Dinosaur Planet for the Nintendo64 has been canned and is now being developed for the GameCube.
Personally I think IGN should stop posting these stupid things, haven't they got anything better to do than to fill up their site with crap? I guess it's daily updates at any price. Ofcourse they're a "magazine" and are probably supposed to come out with this crap, but why not try to get Rare to speak instead of trusting their "sources".
I played Dinosaur Planet for 5 minutes or something at ECTS last year and it was looking quite good, so I sure hope that this is just another pile of crap from IGN, I think they cancelled Conker's Bad Fur Day for the N64 too, didn't they?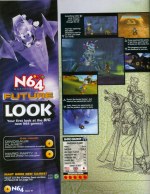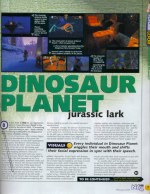 One of the best UK N64 magazines around, N64 magazine, wrote a small piece about Dinosaur Planet in their February 2001 issue which you can read here.
ANOTHER N64 APPEARS ON THE RELEASE LIST
What was supposed to be cancelled by Activision themselves awhile back is now back at the release list, Tony Hawk's Pro Skater 2. It is said to be a direct port of the PSX version, but with a few graphic upgrades. More info when it's available.
64SCENER GOES GBA
As we're about to experience the release of the Gameboy Advance in Japan, I've decided that 64scener should include info about the system, and maybe even copier related if one ever is available. I hope to get my GBA just after the release and have a review of the system up later, meanwhile I think you should check out www.gbadev.org.
LATEST SCENE RELEASES

| | | | | | |
| --- | --- | --- | --- | --- | --- |
| 03-01-2001 | Pokemon Puzzle League (Ger) | Nintendo | PAL | nil-pplg.zip | 256mbit |