SADLY THE STUPIDITY CONTINUES
Christopher Agnew wrote me a mail after my bitching...

a z64 can load 320mbit games but not 512mbit because i have done it.if you have one you should try it,it works.

Well duuh! I could load Resident Evil 2 on a Doctor V64 128mbit too, but that doesn't mean that I am able to play it. Shake your heads until you get it right, you will never be able to play Conker or Paper Mario on your Z64, CD64 or V64s, may take a lot of shaking though.

NEW PALFIX FROM D_TRON

| | | |
| --- | --- | --- |
| INDIANA JONES & THE INFERNAL MACHINE | USA | [ DOWNLOAD ] |
This fix has a nice little feature which turns the green blood into red! :)
ARE PEOPLE REALLY THAT STUPID?
It's the most odd messages that arrives in the 64scener mailbox these days, after Conker's Bad Fur Day and Paper Mario was released. The mails come from people who obviously don't have any brain cells left at all, may sound a bit hard to I bet its the truth.

So what's all this bitching about you might say? Ok here it goes, as we all know both Conker and Paper Mario are above 256mbits (320 and 512mbit) and the mails are comming from Z64 owners requesting cracks for their copier, keep in mind that the Z64 is 256mbit max.

Is it really that hard to understand that you cannot load 512 or 320mbit into 256mbit ram? Some people tend to think that you can load the first half now and the 2nd half later as you progress in the game, which seriously is just too stupid as that's not how a ROM image works, the whole thing needs to be loaded at once.

Lets take the latest mail arriving in the mailbox:
| | |
| --- | --- |
| From: | "Christopher Agnew" [@hotmail.com] |
| To: | m_nielsen@mobilixnet.dk |
| Subject: | i need a crack for paper mario US |
| Date sent: | Thu, 15 Feb 2001 20:47:39 -0000 |
i have a z64(2.18)and i downloaded paper mario i put it on a zipdisk and loaded it with Revenge,mario and Command & Conquer but i just got a black screen.please could you make a crack for paper mario US. thanks
Dude isn't it quite obvious why you cannot run it? I mean geez. You don't seem to know one bit about what you're doing, so buy the cartridge instead and you should be safe.
| | |
| --- | --- |
| From: | @aol.com |
| To: | m_nielsen@mobilixnet.dk |
| Subject: | concor's bfd |
| Date sent: | Mon, 5 Feb 2001 19:44:34 EST |
Hello,I have downloaded concor's bad fur day for the n64 and was wondering if there is ANY way to play the game using a z64/n64 game copier.My z64 will play games up to 256 megs only.is there a crack or a new z64 bios that would allow it to load and play?Please let me know and you have a great web site!keep up the GREAT work!
Has a little between the ears as he knows his Z64 is 256mbit, but seriously if such a thing existed don't you think it would be all over the place?
Finally a mail from someone who just is too fucking stupid and should be locked up.
| | |
| --- | --- |
| From: | "Jim Tindell" [@sailorjupiter.com] |
| To: | m_nielsen@mobilixnet.dk |
| Subject: | ? |
| Date sent: | Mon, 5 Feb 2001 12:52:12 -0800 |
Hello. I've heard about 64Scener for awhile, but honestly, I have no idea what the hell the entire site is about. Is it about emulation? What is all this Z64 talk? How did you get Conker so quick? Dizzamn!
I know I sound like a child with all these "huh? huh? HUH?" questions, but I guess we have to get it all out somehow ;)
...Jim
Again people IF there was a way to modify your Z64 to run 256mbit+ games, don't you think the information would be widely available? like here, and even dextrose? From what I understand the Z64 hardware is not designed to handle larger than 256mbit RAM, and it never hurts to buy a game and support the greedy Nintendo a little, hey if you buy Conker we might even see more of these games in the future.
I just had to bitch a little today as I'm so tired of listening to stupid, sad, gits wondering why Conker won't run on their Z64 system and constantly trying stupid things to see if there is some way to get it running, there isn't atm (and probably never will be since the N64 is dead in a few months and MrBackup won't bother then).
IGN SAYS "TWO MORE BITES THE DUST"
Well for once they might be right, IGN. It's said, by them, that Vatical Entertainment may not be releasing two of their titles anyway, which are VR Powerboat and Carnivale, and judging them by the two of their already released games, bomberman 2nd attack and Polaris SnoCross we might be better off without those two to worry about anyway, but it's always sad to see titles leave the list at this point of the N64 lifeline, the few months left anyhow.

Publisher Vatical Entertainment said that VR Powerboat has yet to begin production, so it's doubtful that they'll even concidering starting developing it. Carnivale which has been bouncing on and off the list, which by the way is based on a movie that never happened, is said to be 50-60% complete, but because of problems at the developer house it might never be finished, although Vatical is currently looking for someone else to take over the project.

It seems that Vatical have confirmed that we definately will see atleast one more game from their part, the long awaited Sea-Doo HydroCross, erh not. It has recently been passed on to the Mario Club for reviewing, but seriously what does a game hungry company do? not bin it I bet!

LATEST SCENE RELEASES

| | | | | | |
| --- | --- | --- | --- | --- | --- |
| 02-06-2001 | Paper Mario | Nintendo | USA | ags-pm.zip | 320mbit |
NEW PALFIXES FROM D_TRON

| | | |
| --- | --- | --- |
| RIDGE RACER 64 | USA | [ DOWNLOAD ] |
| ROBOTECH: CRYSTAL DREAMS [BETA] | USA | [ DOWNLOAD ] |
MORE CONKER SCREENSHOTS
We're having a snow storm here in Denmark today, which meant that I couldn't get to work (bad!), so I spent the day playing Conker's Bad Fur Day, when I wasn't keeping the path to the house free from snow that is. Anyway 64scener now has over 200 screenshots online from CBFD, it may ruin of of the fun if you haven't played the game yet, as some screenshots are of complete cut scenes, but it'll give you a good idea of what this game is like.

It's definately a game you gotta own, I'll be sure to get a copy when it arrives in Europe, which is said to be November or December (gah!), let's hope Australia gets it earlier like Banjo Tooie, cause it's too brilliant to not owning the original cartridge.

Conker's Bad Fur Day ScreenShots 1 - 30
Conker's Bad Fur Day ScreenShots 31 - 60
Conker's Bad Fur Day ScreenShots 61 - 90
Conker's Bad Fur Day ScreenShots 91 - 120
Conker's Bad Fur Day ScreenShots 121 - 150
Conker's Bad Fur Day ScreenShots 151 - 180
Conker's Bad Fur Day ScreenShots 181 - 210

If you want to check out my save game(s) you can download them here. Remember to backup your own savegame first.

ANOTHER NEW N64 GAME ARRIVES ON THE LIST
Although this time its on the japanese list. Echo Delta (by Nintendo) may now never see a release date, but Culture Brain then steps in with a game, Hamster Monogatari 64 (Hamster Tale 64). The game is the virtual pet style, or as Culture Brain pute it; a hamster training simulation game. I doubt this is something to look forward to, but its nice to see a new title appearing on the release list.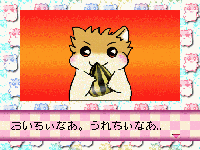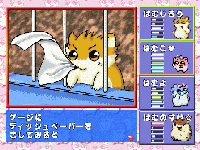 Screenshots from the PlayStation version.
Last month ign64.com reported another two games added to the Japanese list, one being a Konami title, Powerful Pro Baseball BASIC Ver. 2001 and another title (by?) called Derby Stallion. According to Konami of Japan's homepage we can expect the baseball game next month, 03.29.2001.
GAMETEK RETURNS?
I don' t know if you've noticed, but the gametek.com domain has been bought again. Remember the company behind the most famous unreleased N64 game, Robotech Crystal Dreams?
Well they did close down and sold off all assets, however the gametek.com address has been active for some time now, only hasn't shown anything, until now. A cheesy logo appears as well as three non-working buttons.
I'm not sure if it may be a new company using the same name, can they do that?, or just some fan making a site about the company. The domain is owned by a student at UMICH and was bought on Dec 3rd 1999, but nothing has appeared there until now. I've ofcourse contacted the guy asking about the site, so if I ever get a reply, I'll let you know :)
Z64 BIOS FAKE
I guess the final word about yesterday's Z64 bios is that it's a fake one, therefore I have removed the links.

I've created a little teaser for all you Z64 and V64 owners, check it out here (warning it may ruin some of the fun if you ever get to play the game).

Also, to all you who wanna play Banjo Tooie and Conker's Bad Fur Day (if you have a V64jr512 or E64) and keep requesting cracks for these. Get your ass off the chair and go buy Donkey Kong 64 or Perfect Dark, these two carts will allow you to both boot and save in BT and Conker.
Or you could buy Banjo Tooie!! :)

I doubt any of you are so poor that you cannot afford to buy one game.




Z64 BIOS 2.30 (BASED ON V2.18)
MrBackup sent me this new Z64 bios which sure has some nice features:
(Following taken from the .txt included)
64MB EDO 60ns 2/PIN SUPPORT

BETTER 6105 BOOT CHIP SUPPORT

100 % CIC-NUS-6105 EMULATION

AUTO DETECT PAL/NTSC GAMES

AUTO DETECT EXPANSION PAK

FLASHROM SUPPORT

ONLY TESTED ON HW3

NEW ZIP DRIVERS

NO ORB DRIVERS

NO HD DRIVERS

SOME BUG FIXES
16 Kbit EEPROM (HAVE NO SOURCE CODE FROM Z64.EXE V2.17)
512 Mbit GAMES PLAY / WORKS WITH 64MB EDORAM
(WILL NEVER RELEASE Z64BIOS V3.00 HW4)
I've received numerous reports about this release being fake. I can't confirm if it works or not since I do not own a Z64 or even have access to one. You download and use this totally on your own risk.




LATEST SCENE RELEASES
| | | | | | |
| --- | --- | --- | --- | --- | --- |
| 02-01-2001 | Conker's Bad Fur Day | Rare | USA | mnc-conk.zip | 512mbit |