Z64 General Information
---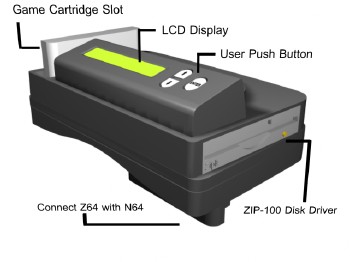 Z64 Features:
Sits on top of Nintendo 64© game cartridge slot. N64 sees it like a regular game cartridge!
Simple installation and use - plug and play with only 3 buttons
New On Screen Display mode that includes Z64 configuration and Action Replay Codes (GameShark© emulation)
Only a power cord, no other cables - Z64 uses N64 video connection and game controllers
Independently operating without connecting to computers or any peripherals
With built-in 256Mbits memory (32MB DRAM)
With built-in IOMega ZIP-100© drive
Capable to backup game cartridges to ZIP© diskette as files
Capable to play back game files stored on the ZIP diskette
Capable to play game cartridge directly with Z64 pass-through slot
Capable to store game record, EEPROM or SRAM, onto ZIP diskette
Capable to delete game files stored in the diskette
Store average 6-12 files, non-compressed or compressed (.zip format), in one ZIP-100 diskette
Average 16-32 seconds to backup each game file
ZIP drive sleep mode - save the wear and tear of disk and drive
Capable to automaticly detect defective game cartridges
Multi-Lingual support.
Future game play support for other game console - Gameboy, SNES, etc.
Functions and features are upgradable with Flash BIOS
Z64 Operating Specification
Range of Working Temperature: 0 to 55 degree centigrade*

Range of Storage Temperature: -25 to + 80 degree centigrade

Net Weight: 1.5 kg

Power: 5W

Input: AC100 - 240V, 0.2A

Output: DC +5V / Maximum: 1.6A

Dimension: 24cm x 14cm x 13cm (L x W x H)


Internal RAM: 256Mbits (32MB, 8x32 72-pin NP EDO SIMM) Standard

Media: 100MB PC Format Zip disk

CPU: 386SX/40MHz

BIOS: Flashable

* Allow the unit 1 hour to warm to room temperature before attempting to play if it has been exposed to near-freezing temperatures. From experience the Z64 will sometimes not function after being exposed to cold temperatures until it warms up some.