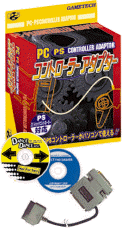 PC-PS DUAL SHOCK ADAPTOR:
Convert your PS joypad, racing wheel, dancing controller...... to be played on PC computer.
Support rumble (vibration) function with the included DC 9V adaptor.
Support 2 players.
All of the buttons can be used on the 1P controller or 2P controller
included Direct pad driver & Dancing Game
Switch box for the Printer & Direct pad.
more details at http://www.ziplabel.com/dpadpro/index.html.
Thanks to Ziplabel.com

¡@

¡@