Cheat-Code Function:
Those cheat-code are compatible with X-Terminator code , Action Replay code & Game Shark code.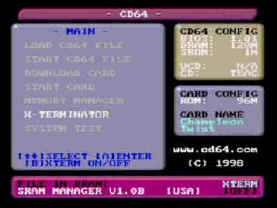 Under the X-terminator Title, you can select either edit your own code or Select those built-in cheat code.



Under the built-in code function, each game title may have several cheats inside. You can select those code by using the JOYPAD to highlight those code.



Under the edit code mode, you can key-in the cheat code by yourself.
For the latest cheat-code, you can check it out from the following internet web site :
CD64 user can get the X-terminator cheat -code from the following web-site.:
www.gametech.co.jp ( Japan code )
www.blaze.de/german/download.htm (Europe )
www.x-plorer.co.uk ( U.K. )
www.gameshark.com ( U.S.A. )
www.xploder.com ( U.S.A. )